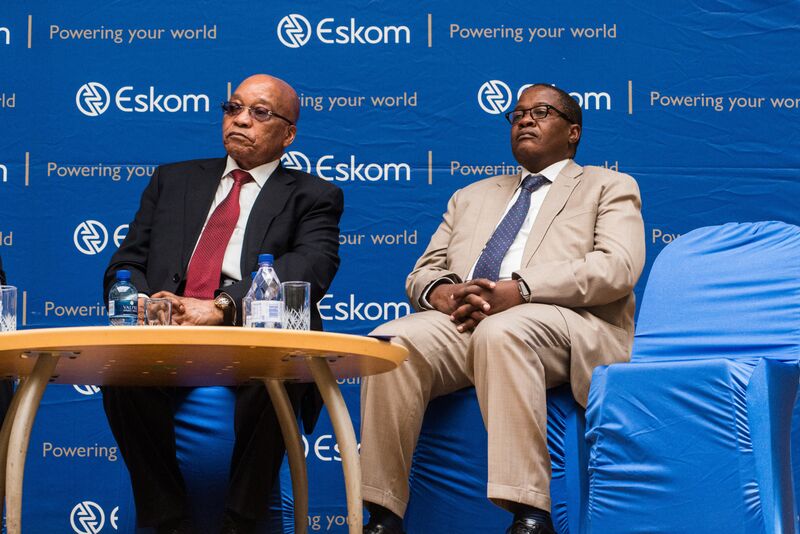 Jacob Zuma and Brian Molefe. Photographer: Waldo Swiegers/Bloomberg
The newly reinstated head of South Africa's power utility has been accused of attempting to influence a former minister, reversed plans to close power plants that his predecessor claimed weren't needed, and set the country's ruling party against its president.
He's only been back on the job for two days.
Brian Molefe, who returned as Eskom Holdings SOC Ltd.'s chief executive officer on Monday to staff posters welcoming back 'Papa Action,' was moved to tears when he left the role in November. He resigned following a graft probe by the Public Protector that found he made decisions favoring the Gupta family, who are friends with President Jacob Zuma. Molefe's surprise reappointment, announced Friday by Eskom Chairman Ben Ngubane, sparked a backlash that's stretched from opposition parties to labor unions and even the ruling African National Congress, which told the government to reverse the move.
"Politically and ethically the reinstatement stinks to high heaven," Aubrey Matshiqi, an independent political analyst, said. "It seems to me that power has become so dispersed — that some power lies in the state, some power lies in the government, some power lies in powerful economic actors, some power lies in powerful families."
Read: ANC tells Zuma government to reverse Molefe return as Eskom CEO
Molefe's reinstatement has exposed widening rifts within the ANC and between some party leaders and Zuma's government. It's revived scrutiny of the influence wielded by the Guptas, who are in business with the president's son, Duduzane, and means investors must digest yet another surprise appointment, less than two months after Zuma replaced Finance Minister Pravin Gordhan in a sweeping late-night cabinet overhaul.
ANC officials told the government that it should rescind Molefe's reappointment at a meeting Monday attended by Zuma, party Secretary-General Gwede Mantashe said on Tuesday. Action should be taken immediately, he said.
The Democratic Alliance, South Africa's main opposition party, filed a court application on May 15 to set aside Molefe's appointment.
Molefe's second day back was already off to a poor start after former South African Minerals Minister Ngoako Ramatlhodi alleged the CEO was present during a 2015 meeting when Eskom Chairman Ngubane tried to pressure the then-minister into suspending Glencore Plc's mining licenses in the country during a dispute between the two companies. Ngubane threatened to go to the president if the request was refused, Ramatlhodi said.
Read: Ex-minister says Eskom boss urged Glencore permit suspension
At the time, Eskom and Glencore were locked in a dispute after the utility refused to amend a supply contract for Glencore's Optimum Coal Holdings that had become unprofitable. Eskom fined the producer about 2 billion rand ($153 million) because its fuel didn't meet specifications. Glencore later agreed to sell Optimum to Tegeta Exploration & Resources Ltd., which is part-owned by the Guptas and part-owned by Duduzane.
Zuma, the Guptas and Molefe have all denied any wrongdoing. Ramatlhodi's claims are "preposterous," Ngubane told reporters in Cape Town on Tuesday morning. He spoke after appearing at a conference in place of Molefe, who had been scheduled to speak but didn't arrive.
Eskom "can't wait for the day when a commission of inquiry is established so that we can get to the bottom of this matter once for all," the utility's spokesman, Khulu Phasiwe, said in response to an emailed request for comment. Then-graft ombudsman Thuli Madonsela in November ordered the establishment of a judicial commission of inquiry to investigate whether there had been any wrongdoing.
Molefe, who spent part of his time away from Eskom as an ANC lawmaker, has already reversed one of the biggest and more controversial decisions made by his predecessor. Then-acting CEO Matshela Koko had announced plans to close five older coal-fired power stations early, saying that a government program to procure renewable power from independent producers created a surplus.
Rolling Blackouts
The effect of closing the plants would be "devastating" to as many as 30,000 people who depend on them for their livelihood, Phasiwe said earlier Tuesday. Decisions about operations are made by executives as a group, with the support of the board, not by individuals, Phasiwe said on Wednesday.
Decisions about operations of the company are taken by the executives as a collective, with the support of the board, not by individuals, he said Wednesday in an emailed request for comment.
While Molefe left under a cloud last year, he oversaw the end to rolling blackouts in South Africa after joining Eskom as acting CEO in 2015 before being appointed permanently to the role. The utility's board backed him publicly following the Public Protector's November report and videos posted on Twitter Monday showed employees dancing and waving posters to welcome him.
Some analysts say the blackouts ended because they crippled the economy and caused demand for power to collapse. Electricity generated by Eskom's plants fell to the lowest since 2006 in 2015, it said on its website.
The response to Molefe's reappointment shows growing frustration in South Africa, Mike Davies, the founder of political advisory company Kigoda Consulting, said by phone on Tuesday.
"The longer they show that disregard for the conventional processes of the ANC and governance and good governance in general," Davies said, "the more we're likely to see a heightened sense of concern over what's actually taking place."
Source: Bloomberg